For 2018 the Land Rover Discovery gets a smaller new 2.0-litre engine. It's a step forward for the car.
SINGAPORE — The 2018 Land Rover Discovery (actually the Model Year 2019 one) is two tech trends in one: car bodies have been getting lighter, and small engines have been getting more powerful.
That's given Singapore a Discovery 2.0 Si4, in both SE and upscale HSE trim. Before this, our market had a 3.0-litre V6 supercharged model, and before that, a 3.0-litre V6 turbodiesel.
So the engine's shrunk by a third in both cases, and the good news is that the price has come down accordingly: you can now have a Discovery 2.0 SE for S$299,999 with Certificate of Entitlement. This is a car whose price was closer to 400 Big Ones. At this money, it's competitive.
But does it go?
First things first, the new engine's a gem. It's from Jaguar-Land Rover's "Ingenium" family of powerplants, and if it were in a small sedan or hatchback we'd all be raving about it. It's smooth, sounds quite cultured and has puh-lenty of torque. Once you get it revving past 1,800rpm, it hauls the Discovery along with admirable vigour.


The big Landie isn't fast, per se, but you never feel like the engine is constantly straining. In fact, you can roll along in the Disco at 90km/h and not know that you're right at the speed limit, because it's quiet on the move.
How can 2.0 litres be enough for something this size?
Three things here: the engine is a turbocharged one that produces 300 horsepower. That's a lot from any engine, plus there's 400Nm of peak torque. The very first Range Rover I drove had a 3.9-litre V8 that produced 306Nm. That's 20 years of progress for you.


Second, this fifth-generation Discovery is largely made of aluminium, and that allowed it to shed 480kg over the previous model. The car we drove weighs 2,093kg, which is a lot in nominal terms, but not that portly for a big Sport Utility Vehicle that carries seven people.
Third, the Disco's rivals are powered by 2.0-litre turbos, too. Audi Q7, Volvo XC90, we're looking at you…
Fair enough. Can the Disco do what those cars can?
That question is probably the wrong way 'round. When the climate finally implodes and a stormy Armageddon is upon us, which car would you want to have?
The Discovery has that Terrain Response System thing that lets you set the car for mud/snow/gravel/armageddon, and off-road helpers such as Hill Descent Control (which lets you crawl down steep stuff at a pre-set speed) and a launch system that lets it take off automatically on slippery surfaces without your foot on the throttle. Because 70 years of off-roading expertise is smoother on the accelerator pedal than you are, trust us.


Also, there's air suspension. It gives a nice, pillowy ride on the road, but is pretty useful off it; at full tiptoe the Disco can wade through 90cm of water. Do your worst, Mother Nature!
Let's not tempt Fate. How does it perform on the road?
If you mean how does it drive, then not good. The steering is the main complaint here; it's vague and feels slack, and that tall body leans copiously around bends. Basically the engine's alert but the handling makes it feel like a car that's been drugged. That Audi Q7 would give you a much tauter drive.
Still, it's relatively easy to manage in a carpark, and actually, at under five metres in length, it's not as enormous as it seems. If you can manoeuvre, say, a Mercedes E-Class, you got this.
If it's not that big, the cabin must be cramped for seven.
Actually, it somehow isn't. Maybe the body guys at Land Rover made good use of the car's 1,893mm height, but the cabin feels enormous.


There's a generous amount of headroom in the back for middle row passengers, and the third row seats are actually habitable for adults.
That's an important point; not all seven seat SUVs are truly seven seat ones (Lexus RX 350L, we're looking at you). But according to Land Rover's calculations, unless you're taller than 95 percent of the human race, you'll fit nicely in the very back.
There are air-con vents back there, too, and a glass sunroof (with an electric shade) to brighten up the place.


Plus, there are more hidden compartments and stowage bins than we could find, many of which are huge.
Of all the family-friendly SUVs around, this could be the most family-friendly.
How's the access to the seats back there?
Good question. Some degree of physical spryness is needed if you're to clamber into the third row. It's hard to imagine an elderly person managing it, so kids, the third row's for you.
The Disco itself requires some people to climb up, but it can drop itself by 15mm to meet them halfway. Our advice is to have your family members try it before you buy it.
Let's say I'm keen. SE or HSE?
Good question. There's a S$25,000 difference between the SE and HSE, and the difference in equipment isn't huge.
As always, the extra stuff in the more expensive either useless (20-inch wheels, front fog lamps), nice to have (a posher sound system from audio specialist Meridien, a 12.3-inch digital instrument cluster) or useful (powered front seats, four-zone climate control).


The HSE also comes with "Intelligent Seat Folding". Basically, you press some buttons or tap the relevant bits on the touchscreen, and the seats manipulate themselves into place, letting you configure your Discover from a seven-seater with 258 litres of luggage space to a two-seater with 2,406 litres, and everything in between. I guess that counts as "intelligent" — you use your brains to do it instead of your muscles, after all.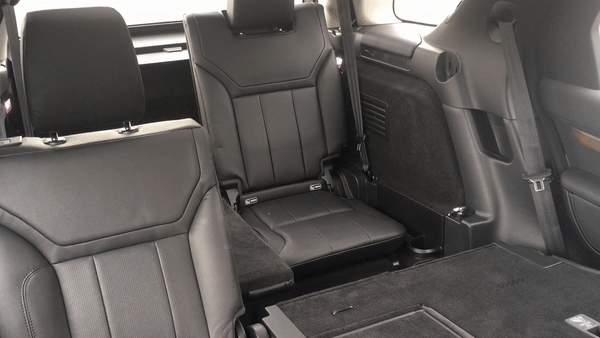 If you balance an active lifestyle with hardcore family use, that could be worth the extra money. Heck, the ability to impress your friends and relatives with the feature could be worth the extra money. Who buys a Land Rover without wanting to impress people, after all?
Hey! I'm interested because I'm a true off-roading family man, alright?
If so, then you won't be discouraged by the fact that the Disco now looks like an enlarged Discovery Sport.


The chunky styling of the Discovery 4 was fairly iconic, and in contrast this new one is certainly less in-yer-face. But one wonders what the "purists" make of it; the Discovery looks and feels like a luxury car now, whereas in the past it was something you imagined taking on safari.


There's a nod to the stepped-up roofs of previous Discoverys, but it's barely visible, and the rear end trades some macho edges for smoother ones, with a weirdly offset number plate.


Oh well, looks are subjective anyway, and if you ask us, ruggedness in a car is overrated.
Whatever it is, the new Discovery's downsized engine and lighter weight have been joined by sleekness. Call it a third trend, I guess.

NEED TO KNOW Land Rover Discovery 2.0 Si4 HSE
| | |
| --- | --- |
| Engine | 1,997cc, inline 4, turbocharged |
| Power | 300hp at 5,500rpm |
| Torque | 400Nm at 1,500-4,000rpm |
| Gearbox | 8-speed automatic |
| 0-100km/h | 7.7 seconds |
| Top Speed | 201km/h |
| Efficiency | 9.6L/100km |
| Agent | Wearnes Automotive |
| Price | S$324,999 with COE |
| Available | Now |